In
Trinidad and Tobago Carnival
there is a traditional mas character called 'baby
doll
'. Born of of the carnivals of the 1930's the baby doll masquerader will walk around with a doll, that represented an
illegitimate child
and accuse men on the street of being the babies father and demand money.
I just came across an article on a character in the united States that pre dates Trinidad's character of the 1930's also called 'Baby Doll' very interesting indeed.
check it out.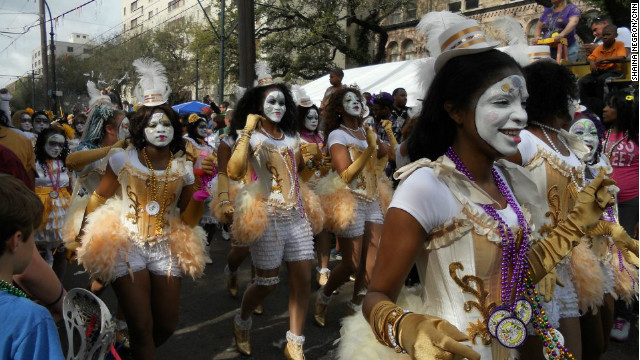 The New Orleans Baby Doll Ladies march in the Zulu parade during Mardi Gras 2012
A modern celebration of African-American history
CNN) -- The week before Hurricane Katrina hit New Orleans in 2005, Millisia White came back to her native city on a trip for work. She stayed behind to help her family recover and has been home ever since.
There was something she felt she had to do. "When something you are so familiar with is threatened to be lost forever, you cling to what's familiar," said White, who moved back from Atlanta.
For White and her brother, that meant bringing back a century-old New Orleans practice of masking, or masquerading, which was nearly vanishing.
That year, she founded the
New Orleans Society of Dance
and incorporated into the dance company a cultural legacy series of dance performance that would revive tradition of the Baby Dolls -- with a modern twist.
"We wanted to do something representing this tradition and what it meant and symbolize it in some form."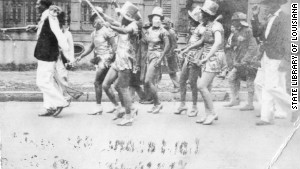 In a photo from the State Library of Louisiana, women wear Baby Doll-style costumes in a 1930s street parade.
The Baby Doll practice started about 1912, when groups of women in New Orleans' red light district poked fun at society's stereotypes of women by marching in street parades dressed as dolls. It grew into a tradition centered on dance and paired with jazz bands of the popular music of the era.
Groups of women embraced the attitude of freedom and the pageantry of the Baby Doll street parades, but their focus grew over the decades. They organized and began serving their community through groups called "social aid and pleasure clubs."
"These were just people who were very much of their community," said Karen Leathem, a historian with the Louisiana State Museum. "They tried to help their neighbors during an era of segregation and limited opportunity for all people of color."
However, by the 1980s and 1990s, only a handful of groups were masking as Baby Dolls.
Several neighborhood groups like the Million Dollar Baby Dolls and the Ernie K-Doe Baby Dolls were active in the new millennium. But by 2005, the Baby Doll practice seemed as if it was about to be forgotten in Katrina's wake.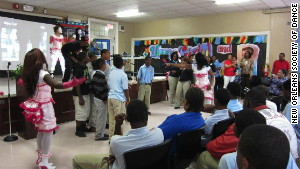 The Baby Doll Ladies with DJ Hektik dance with students at the McDonogh 42 Charter School in
spring 2011.
"My brother and I decided, we needed a sort of campaign," White remembered. "It all started so we could give something back in our own backyard."
She had heard about the Baby Doll tradition as a child and felt that it was a medium close to her heart. "It's synonymous with dance and with women," she said.
White's revival produced the Baby Doll Ladies, with costumes, face paint, music and dances that are modern takes on the Baby Dolls of the past. Rather than using a live band, her brother DJ Hektik plays mixes of hip-hop and jazz for their choreographed performances.
But White also wanted to bring back the community focus central to the Baby Doll tradition.